back to blogging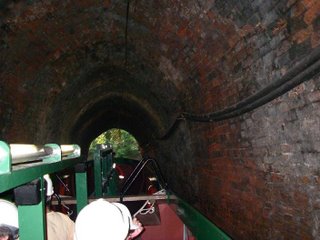 I've taken a much needed break from blogging, but I'll try to catch up over the next day or two.
First off, I put some
photos
of our last two hikes in Crete. We had a great time hiking.
We spent our last day in Heraklion doing some shopping for souvenirs. I bought a rug for the kitchen. Most of what we bought are just cheap reproductions of Greek art--like the
Phaistos disk
with linear A script.
Getting home was a pain in the butt. The airport was a disaster with three flights leaving within 30 minutes of each other. There were tons of people trying to get through security, but none, as in NOT ONE, was open. People were getting mad and there were no lines, so everyone just packed together. What a joke.
The kids enjoyed the flight. I did some writing, although not much because I was sitting between the two girls.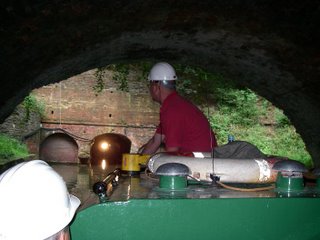 Since we've been in the UK we went to the
Black Country Museum.
We took the kids down a simulated mine shaft. Teagan and Erin weren't happy at first because it was dark, as in completely black. We had to turn off our lights for a few seconds, and Teagan started to cry. Oh bother! So I clicked into sympathetic-mother mode and managed to convince her to stick with me. By the end she was skipping through, the silly goose.
And then we went on a canal boat trip. Devin and I got a chance to be the "leggers", which is to say we laid on our backs, stuck our feet up on the walls, and pushed the boat through the canal tunnel.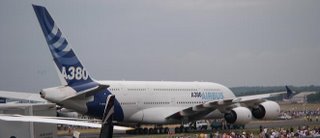 Yesterday Terry and I headed to the
Farnborough airshow.
Unfortunately, it rained for an hour and we got completely soaked, as in I could have rung out my underwear. I had to laugh, it was such an experience. As we hunched over our food, rain dripped off our heads into the food. There really were no shelters at all. And there weren't many toilets. You had to walk a long way to get there. Sometimes I wonder if Europeans pee...America is by far the best equipped country for toilets. Anyway, the traffic getting into the airshow was also horrible. It took us 1.5 hours to get from the motorway to the parking. It was insane. But it was cool seeing the new Airbus A380 flying that close to the ground. Wow.
I'm trying to convince Terry to go to Dublin. I've never been to Ireland, so tomorrow we'll head to the travel agents and see if they have anything. If not, we'll at least take the ferry across for a day. That is, if I get my way.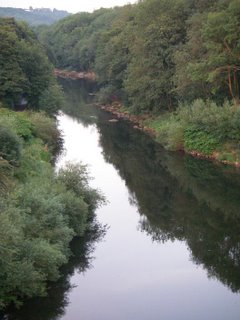 We're taking a bit of a break and hanging out with the family and staying up late and sleeping in and reading and playing video games. Loads of fun. Oh, and the other night we went to a soccer game: Walsall v Aston Villa. It was a "friendly" match, seeing as Walsall is a third-tier team and AV is one under the primier league. At least, that's what I think. Terry and I also got a night out with Terry's friend Terry. They have the same name, and that's how they met. He's a funny guy and I enjoyed listening to him talk. You all will find it funny that I wasn't the one doing most of the talking. Ha ha ha.
Everyone's gone to bed, so time for me to hit the hay, too.