Lasithi plateau and Dikti cave
Yesterday we rented a car and spent the day driving around the Lasithi plateau.
Our first stop was the Psyros (Dikti) cave where Rhea gave birth to Zeus. The myth says that Rhea was mad at Kronos because he kept eating all of her children. He didn't want to have an heir and give up his rule. Upon getting pregnant with Zeus, Rhea decided to flee. She arranged for a battle to occur out on the plateau so that no one would hear her birthing or hear baby Zeus crying.
The cave was a short hike up this crappy trail.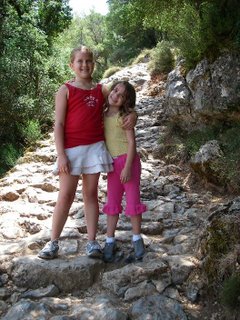 The Lonely planet guide book said there was a better paved trail that was between two restaurants. We'll, I saw a nice trail but there was only one restaurant and a closed up building. There were two restaurants on the other side of the square. All of the signs point to the old trail. Why? Because it's rocky and steep and about 100 feet up the trail there are a bunch of men sitting there with donkeys for hire. Only 10€ up and 15€ for both up and back. So a bunch of people, especially in the heat of the day, punt on the hard trail. Turns out the donkeys don't take the hard trail anyway. The go up the new path. We finally found the new path, which connects to the old path about 20 feet toward the end. My advice if you go: when you're in the parking lot (parking is 2€), look directly across from the inlet road. If there are two buildings (closed, open, restaurants, whatever) and a trail that looks new, take it. It's about 100 feet or so to the left of the old and sign-posted trail. Or just take your time walking up the old path. The donkeys (I think) are not worth it (and maybe I'm also feeling sorry for the animals). I think it took us 15-20 minutes to get up, and that included water breaks. Here's a photo of the new trail.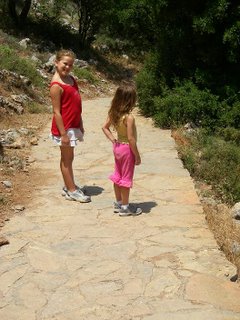 The cave is very cold and makes for a wonderful break from the heat. Here's Erin at the entrance to the cave.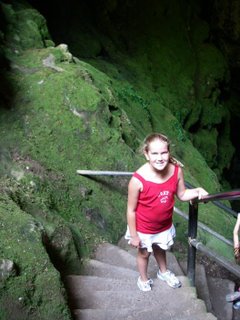 There are quite a few birds chirping away but no bats. As caves go, it's a good first cave experience, but if you've seen other caves (like the Jenolan caves in Australia or the Moaning Caverns in Mercer County), the Dikti cave won't compare. Still, it was nice to get into a cold place for a while.
Around the plateau you'll find only tiny villages all pandering to tourists. We drove through two or three sad villages with elderly people sitting outside of the shops, their embroidered table cloths hanging limp in the heat. The towns are all in serious states of disrepair. Some of the buildings are left rotting in the sun, their doors and windows removed. Some, the ones with four-foot high pillars, look like the builder abandoned the project half way through. There are other villages (all on the map!) that consist of only three or four buildings. These must come to life when the fields need harvesting.
The views were stunning. On our way back, I tried to take off on a gravel road toward an "archeological site". After heading up a steep trail, I decided to give up and go back. While I stalled the car on the hill and took a couple of attempts to restart the Nissan Micra we rented, I discovered a goat in the tree. Erin took this photo. She got a kick out of all the goats she saw after I pointed them out. Poor Teagan was too short to see much out of the windows.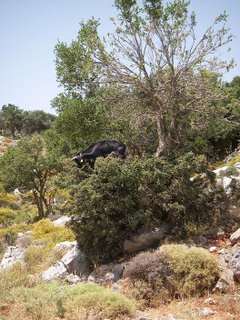 After the cave, we drove through the "major town" in the plataeu--Tzermiado. There wasn't much there except a handful of tavernas. I learned later last night that to work in a taverna, you have to get a TB test, chest x-ray (which you keep), blood test (for hepatitis), and a urine test. I guess the government knows how much its economy is based on tourism so that if there's a case of some disease, no one will come and the country will have serious problems.
Today is our last day in Agios Nikolaos. Tomorrow is a long travel day on the bus--here back to Iraklio, then a two-hour trip to Matala (where we met back in 1989, for those keeping count). We arrive in one bus station and have to get over to the next station in the city. They should have busses between them, but then they are likely competing businesses. So again, I don't know what kind of access I'll have to a computer.
Here's a question that Terry flunked yesterday. We were given a choice of beers (in bottles because the tap ran out and the deliveries don't come on Sundays). I said pick the one we drank when we first met. Uh...he had no clue. What do you think?
--Mythos
--Heineken
--Amstel
--Lowenbrau
I'll post the answer later.
I hope you enjoy your 4th of July. We had fireworks the last two nights as part of "Navy Week." We came home and the girls watched a movie and Devin read while Terry and I sat in the hall talking with the blokes from Stoke. Then at 11:30 we headed to the bar for a quick drink and chat with Peter and Karen (owners of PK's Cafe). It's funny how we can leave a place at 10pm and it looks like hardly anyone is out, but by 11 the music is blaring, people are dancing, and the entire port has changed atmosphere.
I didn't tell you about the octopus the other day. We went to the beach to snorkel and I managed to convince Teagan to come out and see what we were doing. She didn't want to come until she heard I found an octopus. I was showing Erin and Devin the few things I saw, including sea cucumbers, which they thought looked rather like sand-covered turds. Then I spotted the eyes of a small octopus poking up from a small divot in the sand. I got the kids over and told them to look where I point, and then I dove down about 8ft and when I pointed, the animal changed colors. I popped to the surface (damn that body fat!) and said I was going to try and get it to come out. Erin wasn't too keen on that idea, but I said there wouldn't be any problems with it. This time I approached it from behind. It came out of the spot, inked me and then left.
Then today we were snokeling in a new place and we were having fun. The kids asked to go out to the bouy and back. On our way out, Devin saw a small (6") jellyfish. He started freaking out, then Erin screamed, grabbed hold of me, and wouldn't let go. The jellyfish was about 10-12' underwater. Devin swam a bit away, but Erin wouldn't let go. I tried telling them there was nothing to be afraid of, that we knew where it was and it wasn't going to "get us," but they weren't convinced, so they immediately swam back to shore.
How am I going to convince these kids to scuba dive? (I will say that Devin's been asking a bit about lessons, so there's hope.)
More later, as usual. Let me know if you're reading this. Send me a comment or an email.